Garden State Bearded Collie Clan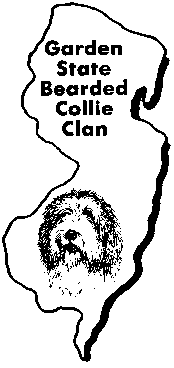 The Garden State Bearded Collie Clan has been in existence since the early 1980's, and serves Beardie owners in central and northern New Jersey. The club is very active and holds herding events, agility events, match shows, and an annual specialty. Also, there is an annual picnic and holiday party.
In the mid-1990's, the club applied for and was granted permission by the AKC to hold sanctioned matches. The first sanctioned "B" match was held in October, 1995. The second was held in October 1996.
Our first "A" match was held on Sunday October 5, 1997 at Montgomery Park in Belle Mead, NJ. The weather cooperated, and we had a great entry. We held our second "A" match in October 1998, another quite successful event. We then applied to AKC for "licensed" status.
In June of 1999, we received a positive response from AKC. Our first Specialty was held on May 27, 2000 in conjunction with the Monmouth County Kennel Club show. Breed judge was Mr. Joseph Gregory, and sweepstakes judge was Ms. Nona Albarano.
In 2004, we moved our specialty to the Newton Kennel Club show in Augusta, NJ. In 2005, our specialty will be held at the Ramapo Kennel Club Show on the Sunday, October 16.
We have also held herding instinct tests and agility matches.
We meet on the third Wednesday of each month. For membership information, contact the club secretary, Debbie Barner, at tdbarner@worldnet.att.com
---
Back to the Raintree Home Page
---
Copyright © 1996-2005 Robert M. Lamm
This page last updated on May 1, 2005